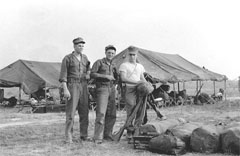 Camp Udorn March 1961 - Larry Simeone photo
The Chairman, Joint Chiefs of Staff reported to the Secretary of Defense that CINCPAC had alerted a MABS-16 at Futema, Okinawa for movement to Udorn to support 20 UH-34 D helicopters including 300 personnel for ground maintenance and support.
Units of the Army's 9th Logistical Command deployed to Korat during Exercise Long Pass 28 February 1961. Del Olds was with the 133d Signal Company when the deployed.
"We were at Korat for about a week and some of us were sent up to Udorn. I flew in on a C-124 with an AN/GRC-26 and a jeep. another group drove up with an AN/GRC, a deuce and a half truck, and a jeep from Korat. We set up on the south side next to the old laterite runway previously used by the Japanese in World War II. When we arrived there were no tents on the north side of the concrete runway. Right after that several hundred Marines from the 3d Marine Air Wing arrived in Udorn and quickly constructed a tent city."
Del described their unit and equipment, "There were ten of us, two radio repairmen, one teletype repairman, six radio operators and a cook. We all wore civilian clothes and we had to keep the crypto equipment very secure. I served as a radio repairman and crypto operator. We used K6s with the wheels that had to be cleaned every time we used them because of the humidity.
Our AN/GRC-26 was equipped with RC-390 receivers, ASR and KSR-33s, CV-110 converters and I think the transmitter was a T-3 or T-368. It was the replacement for BC-610. We also had KC6s or KC10 field crypto units.
MABS-16 commanded by Lt. Col. Johnson arrived at Udorn, quickly constructing their camp north of the concrete runway and along the east end. Security for the operation was given to 3d MarDiv since Futema was a new base and the primary security remained behind in Okinawa.
1st Lt. Bill U'Ren would command 55 Marines in a security detail. "My Bn Commander was Lt. Col. Martin J. Sexton, CO of 3d Bn 3d Marines. I spent most of my time working with Col. Johnson and his small staff going over intelligence reports, photos and maps of the Udorn area. We could only deploy 300 men as specified by the Thai Government."
Local people sat along the dusty roadway watching as a great number of C-130s and C-124s landed with supplies and equipment. Within a few days the tent camp, the shops, landing control equipment, emergency equipment and fuel farms were operational. "Udorn was a very rural area when we arrived so we were the biggest show in town. There was no fence around the airport which caused us no end of trouble. Civilians and robed Buddhist monks were continually walking across the runway. The local police was suppose to secure our outer perimeter, but they did not seem to have control of civilians. There was a Thai Air Force Major who could speak English and he helped us with some of the problems." said U'Ren. He added, "I was never really convinced that the Thai police or Army were going to be of great help if we got raided from Laos. We never had a problem, but I had a combat load of a day and a half ammo just in case. The terrain was not very defensible. We were very vulnerable if the bad guys wanted to hit us."
"Engineers built the permanent camp out of mahogany on the other side of the runway. This was difficult. The camp was built several feet off the ground because the monsoons did leave areas of water all over the airport facilities. The living areas and mess hall were screened off because of the bugs."
Larry Simeone was deployed to Udorn from Okinawa attached to MAG-16, 1st Marine Air Wing as a combat engineer. Units in that deployment would include MAG-16 along with MABS-16 and 3d Platoon C-Company 7th Engineers, 3rd Marine Div; and an infantry platoon from the 3d Marine Div.
"We didn't have the slightest idea where we were going. Some thought Africa and others speculated Indochina. No one had a clue except for a few Marines who managed to pull one last liberty before deploying. When they came from town where they had told the girls that they were deploying." The men all had the same story; the bar girls all said in fractured English, "I think you go Thailand." Operational security kept the enlisted men out of the loop, but the bar girls knew the scoop as their loose-lip customers let them in on the TOP SECRET.
Simeone continued, "When we arrived at the Udorn airstrip there was nothing in the area but a single concrete airstrip and an abandoned air traffic control tower. Our first work detail was to open the air traffic control tower and make it habitable. Years of neglect had made the structure home to many of northern Thailand's prolific insects. Cleaning out years of spider and bug infestation was not a typical Marine combat engineer mission, but Marines pride themse;ves on innovation and adaptability. There were no landing lights on the runway; we used smudge pots, lamps fueled by diesel fuel to light up the runway in the event of an emergency night landing."
Four helicopters were in place at Udorn when President Kennedy approved 16 additional UH-34 Seahorses to be transfered to the CIA, all to be crewed by U.S. military volunteers, half from the USMC and half from Army and Navy. UH-34s were flown from the USS Bennington just after midnight 28 March 1961 by pilots Fonburg, Babitz, Sly, Clark, Meixner, Walton and Buffington from HMR 163. The men were taken to a large house near the airport in Bangkok where they spent the night.
Later in the day a briefing was presented by Abadie. Don Rinker of security told pilots to fill out paperwork for employment with Air America and to be creative about their backgrounds as to obscure their military connection.
Abadie led the flight of 16 UH-34s to Udorn 29 March 1961 after a refueling stop at Korat. The flight took four hours and fifty minutes.
Forrest Gillispie was with HMR-163 stationed in Okinawa in 1960 and assigned to the USS Bennington. "We traveled between Hong Kong, Manila and Subic Bay in the South China Sea. After being recalled to our ship at Subic Bay December 31, 1961, we set sail for Thailand. We had civilians onboard interviewing our men willing to temporarily leave the service as civilians. I was interviewed but not selected. We painted all the aircraft in our squadron marking out all reference to the Marines and all identification numbers. We assigned each with an alphabetical number from A to Z since we had 26 aircraft. Personnel who were selected packed all their military gear, changed to civilian clothing and were flown from the ship."
"I was a personnel officer with MABS-16 when I arrived at Udorn in 1961." Wayne Knight explained. "I returned to Okinawa in November 1961, received an expedited release from the Marine Corps and rejoined Air America. I stayed on with them for another 13 years."
"We always used the 12/30 strip at Udorn. The old Japanese runway was our taxiway into the Air America hangars and our flightline after we moved to the south side. It originally had a laterite surface and was extremely dusty. Even helicopters taxied to the hardstand at the approach end of 30 for takeoff because of the dust."
Tim O'Reilly and members of the 7th Comm Bn arrived the third week in March, arriving from Kadena. "We lived in a corner of a huge hangar arriving as part of the SEATO operation codenamed RAJATA. We had nice racks and mosquito nets. Must have been 40 Marines living there. There were some Special Forces called Green Berets in the hangar too. I was friendly with one of them and one day I asked where they disappear to every now and then. He said little except that they were just getting their jump pay."
"One morning an Army guy asked if any of the Green Berets wanted to make a parachute jump. The group went out to a plane sitting in the weeds near the concrete runway. They hand-pushed it to the runway then took off after awhile. The plane circule up directly over the top of our hangar until they jumped. They landed as close to the hangar as possible, picked up their chutes, threw them in the corner and went back to bed."
Tim explained another item of interest which many Udorners also noticed. "Something else that comes to mind are the lizards. Each morning they made a funny clucking sound which sounded exactly like . . . FUCK YOU."
- more -